How to Shop for a Car Like a Pro
If you're looking to save money when purchasing a vehicle, then going with a used car is the way to go. If you didn't already know, buying a new car means that the vehicle will start to depreciate as soon as you drive it off the lot. This is why a lot of people end up buying used cars; it just makes financial sense. Additionally, if you shop smartly, you can end up getting a great deal on a used car that you wouldn't normally get with a brand-new car. Although you may want to get a 2022 model, you can reap significant savings by purchasing a 2018 vehicle instead, and there likely won't be much of a difference in how it drives and its features.
Follow these steps to ensure you have all your bases covered on your next used car purchase. This will ensure you get the car you want (or something similar to it) with a payment that you can afford.
Step #1 – Set a Budget
Besides a mortgage payment, vehicle payments are arguably one of the highest monthly financial responsibilities that you'll have. Not only do you need to be able to afford the car payment, but you also need to consider the interest on the auto loan and your monthly vehicle insurance premium. Additionally, you want to factor in the cost of routine vehicle maintenance such as oil changes, tire rotations, brake pad replacement, etc. The older the car, the more maintenance you can expect to need for the vehicle.
When you're playing around with the math using payment estimators, don't forget to factor in all these other variables so you don't inadvertently wind up overextending yourself. A $300 used car payment can easily turn into $500 once interest, insurance, maintenance, and gas are all included. Be mindful of that when setting your budget.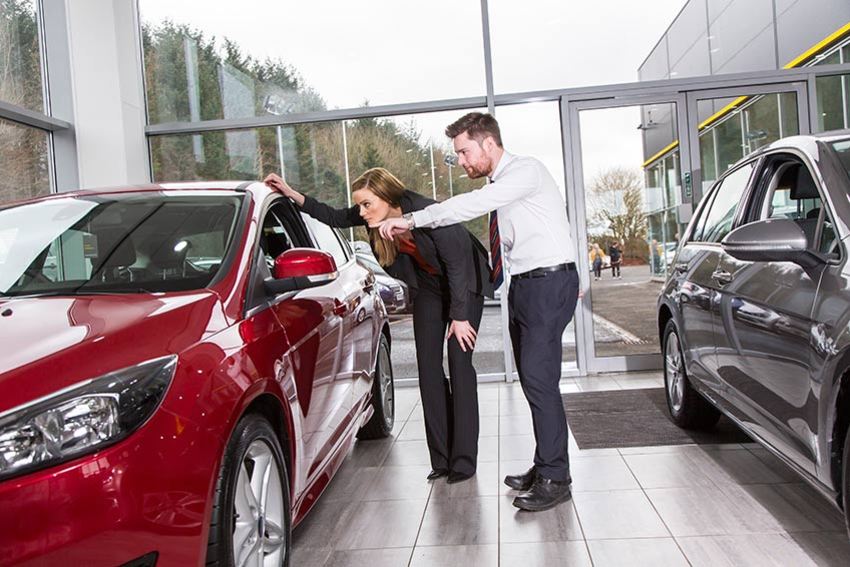 Step #2 – Find the Right Used Car
Thankfully, we live in the age of the Internet which makes used car shopping incredibly easy. Most people start using terms like "used cars near me" to narrow things down to their local area of town. The majority of used car dealerships are pretty good about keeping their vehicle listings up to date with comprehensive details about the car. When shopping for a used car, determine what's important to you and let that determine your direction. Some factors that people use when shopping for used cars include the following
· Gas mileage: If you are constantly on the road or have an especially long commute, fuel efficiency should be at the top of your list. You may even consider a hybrid or all-electric model if you're worried that gas prices are going to eat up a lot of your monthly car budget.
· Cabin space: If you're single and only driving yourself around, then that sporty coupe might make sense. However, if you have a family of four and are constantly going on huge grocery trips, something bigger like an SUV or van might be required for your routine. Think about what you actually plan on using the car for during your regular day-to-day life so that you ensure you have enough space for cargo.
· Features: Some people value features more than how the car drives or looks. After all, features enhance the driving experience and provide us with additional safety out there on the road. However, don't let a lack of satellite radio or backup cameras overlook a great deal. A lot of features can be added on after you purchase.
· Ratings: What people are saying about a car is usually a good indicator as to how it will perform for you. If you're seeing complaints about performance, high maintenance costs, malfunctions, and so forth, then maybe this isn't a used car worth taking a risk with. If the car you're looking at has received a lot of positive reviews, then this may be a car worth looking at in person.
· Certified Pre-Owned: For those needing a little extra security when it comes to their used car purchase, certified pre owned vehicles are a great option if you're willing to spend a little bit more. This gives you manufacturer warranty coverage with service records. It ensures that you're purchasing a reliable car that's been taken care of.
Step #3 – Line Up Your Financing Ahead of Time
Now that you have narrowed down your selection of cars and you have an idea of what your budget is going to be, it's time to start thinking about financing. Obviously, if you have a trade-in vehicle and/or a down payment, that is going to reduce the amount of loan money you're going to need. By extension, that also is going to lead to more favorable loan terms for you.
Speak with your bank or credit union about your upcoming used car purchase. You will need to provide a list of documents such as pay stubs and W-2s. You will also need to fill out their application paperwork. Once they have pulled your credit score and processed your paperwork, they will be able to tell you how much of a loan you qualify for and provide you with a preapproval letter for the used car purchase.
In the event that you can't pick your financing on your own, you can attempt to go through the dealership. They usually work with a handful of lending institutions specifically for auto loans.
Step #4 – See the Car for Yourself
Once you've secured financing, you can move ahead in the used car buying process with more serious intent. Now that you've got your financial ducks in a row, you can start booking appointments to view the cars that you've selected online that interest you. Make sure to give the car a good thorough test drive and ask plenty of questions about the vehicle history and its performance. You also want to ask about the car's maintenance and if any repairs are coming up due in the near future. The dealership should have a detailed inspection on hand that was done fairly recently.
Don't be in such a hurry to buy a car that you end up going with the first thing that you see. Test drive at least a few cars so that you can compare how they handle out on the open road before committing to anything. Take your time, and don't give in to high-pressure sales tactics. If you don't feel good about the deal, don't be afraid to walk away.
Start Looking for Your Used Car Today! Now that you know how to approach used car shopping, all that's left is to determine your budget and begin your search.Used cars for sale in Houston are plentiful, so you're bound to find a few cars that speak to you. If for some reason you don't find something within the city of Houston,used cars in Texas are widely available all over the state. Don't be afraid to venture out if the deal on the car warrants it. There are a few hidden gems when it comes to used cars; you just have to be willing to put in the work to look for them.